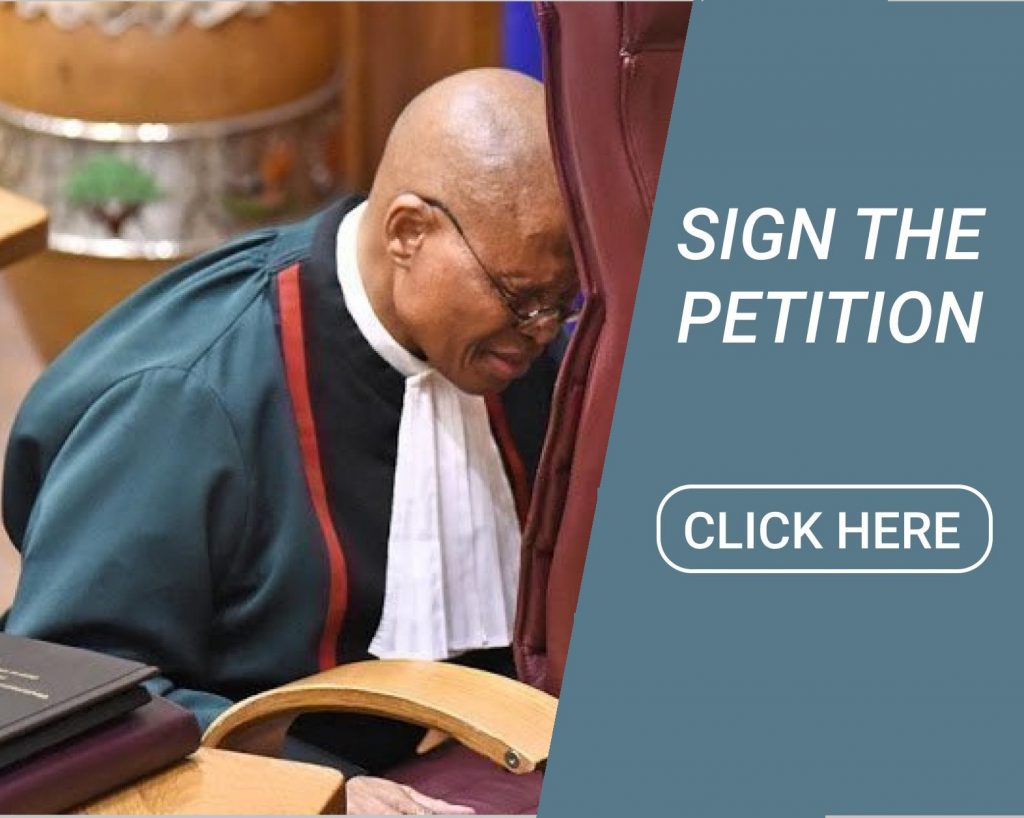 The International Christian Embassy Jerusalem, South African Branch (ICEJ) represents Christians who support Israel, across political parties, including the ANC, and take strong exception to the recent statements by ANC spokesperson, Pule Mabe, and other organisations in attacking Judge Mogoeng Mogoeng, due to his personal view that he holds about Israel as a Christian citizen of South Africa.
On 23 June 2020, Chief Justice Mogoeng Mogoeng aired his personal and religious views regarding Israel, in an online interview, alongside Chief Rabbi of South Africa, Warren Goldstein. The discussion was hosted by the Jerusalem Post Editor-In-Chief Yaakov Katz.
The Chief Justice spoke about the toxicity of hatred, and the importance of overcoming it to make progress. He provided personal testimony of his hatred towards his white compatriots which was overcome by living out the principles of his Christian faith. He was also influenced by a book, written by a Jewish survivor of the Holocaust which confirmed that forgiveness, as a way of life, empowers you from being held captive. The Chief Justice said it was this "principal and his integrity to have love for all" which enables him to make objective and just decisions.
The Chief Justice acknowledged that the policy direction taken by South Africa is binding on him and pointed out that whatever he has to say should not be misunderstood. He said that he, as any other citizen is entitled to criticize or even suggest that changes are necessary – this could be on policy, laws or even the constitution.
The Chief Justice stated that there were people who expected him to hate the Jews and Israel, but he said, "I love the Jews, I love Israel, I love the Palestinians, I love Palestine".
In the days that followed the interview – the people who expect him to hate the Jews and Israel have shown their face. Starting with the ANC, the EFF and others – they have called on him to retract his statements, with all sorts of innuendos and threats veiled in their statements. These are the standard bullying tactics, influenced by BDS lobbyists and used successfully on model Shashi Naidoo and others previously.
Those who voiced their strong disapproval to his views, base their assertions on the misguided libel that Israel is an "Apartheid State" and human rights abuser.
The State of Israel continues to reach out to people of all races and backgrounds as human rights are the very basis of their constitution and all Israeli citizens of any race, religion or gender, have equal opportunities within all spheres of Israeli society. To assert that Israel is an "Apartheid State" is to negate what real "Apartheid" was for the majority of South Africans who suffered under it and to show a wilful ignorance of the reality on the ground in Israel. The ANC previously condemned officials within their ranks who travelled to Israel to investigate the truth for themselves. Why would they do that, unless the "facts" they have been fed, are incorrect?
The Palestinian-Israeli issue is complex and has clear legal and historical factors that need to be considered before sweeping judgements can be made.
The ANC and other organisations would be advised to thoroughly investigate these factors before issuing policies on the Israeli-Palestinian situation. The media propaganda, terror attacks and ongoing calls by the Palestinian Authority, Hamas and surrounding states to destroy the Israeli state need to be understood for what they are: an attempt to undermine the rights of Israelis to live in peace and security alongside them. The root of these anti-Zionist calls (Zionism being the right of the Jews to their ancient homeland) is actually anti-Semitism, which is the oldest form of racism!
The right to freedom of religion is enshrined in the Constitution of South Africa. Chapter 2 of the Constitution of South Africa, containing the Bill of Rights, states that everyone has the right to freedom of religion, belief and opinion. Section 9, the equality clause, prohibits unfair discrimination on various grounds including religion.
The Chief Justice is also subject to the constitution that he is the custodian of and therefore implying that the Chief Justice cannot freely express his personal opinion would be unconstitutional and undemocratic.
The charter of religious rights and responsibilities was signed on 21 October 2010 and in his keynote speech Deputy Chief Justice Dikgang Moseneke stated "Where religious rights are at odds with other constitutional guarantees or a legitimate government purpose, the conflict must be weighed carefully, keeping in mind that in our constitutional democracy the constitution is supreme and there is no hierarchy of rights. All rank equally. We all have the right to be different."
Does this not also include Judge Mogoeng Mogoeng's right to have an opinion that is at odds with, and independent of, a particular ANC policy?
Christians across the board from various parties and churches need to stand up when attacks are made against our constitutional rights of religious freedom, especially when perpetuated by our government, political parties and sadly, some churches and religious organisations.
The ANC often refers to the resolution of conferences where policy decisions are taken and forced on government to implement. It must be noted that there are many policy resolutions of the ANC that have not yet been implemented for various reasons, yet the attack on Israel continues. It must be further noted that the policy regarding Israel and the decision to distance South Africa from Israel is clearly due to a resolution sponsored by the likes of BDS. It is not the position of the majority of South Africans who would prefer to see a normalisation of relations between our two countries and so enable South Africa to play a role in fostering peace within the present Israeli Palestinian conflict, as reiterated by the Chief Justice.
The attack on Chief Justice Mogoeng Mogoeng is an attack on our Christian faith and on South Africa's Constitution.
The ICEJ stands with the Chief Justice's Christian view that we should bless Israel and pray for the peace of Jerusalem.
God's Word is clear as to His response towards those who either bless or curse His people (the descendants of Abram – Gen 12v3). Two different words are used for the word translated as "curse". We curse (Hebrew word "qalal") Israel by hating, insulting, devaluing, minimising or even by just being dismissive about her. This unfortunately describes the present ANC policy towards Israel. God's promised response to those who curse Israel in this way is to truly curse ("arar") them. The meaning of this word "arar" is to be "cut off" from God's blessing.
The outworking of this reality on families and nations has been well documented through the ages. May we take action and pray that this will not be the case for our beloved nation.
Vivienne Myburgh
National Director – South African Branch
International Christian Embassy Jerusalem
Int: P.O. Box 1192 | Jerusalem, Israel 9101002
Local: 3 Transvalia Avenue, Uniepark, Stellenbosch, 7600
T: +27 21 879 1788 | C: +27 83 306 0009 | www.icej.org.za | Facebook | Donate