Experience Israel from a Biblical Perspective
Israel Sukkot 2019 ICEJ
Baruch Ha'Bah Tour
(Blessed is the one who comes)

Join us, as we go up to Jerusalem, the City of our King, to worship the King of Kings!
2 nights – Dead Sea – float in the very healthy mineral dense sea, the lowest place on earth, visit Masada and visit Ein Gedi, where David hid from Saul.
5 nights – Jerusalem – Walk on the walls of Jerusalem. Visit the Garden of Gethsemane where Yeshua perspired blood before being betrayed, contemplate at the Garden Tomb, pray at the Western wall, visit the Mt of Olives, the place where He ascended to heaven and to where He will soon return….and the Eastern/Golden Gate through which Messiah will again walk, tour through the City of David, Caiaphas (high priest) house where Yeshua spent his last evening before being crucified, walk through Hezekiah's Tunnel, visit Yad Vashem Holocaust Centre, drink coffee at Ben Yehuda where you can witness the throngs of Jewish people, young and old, who have returned to their beloved homeland.
3 nights – Galilee – Visit Haifa and ancient Caesarea on the coast. Mt of Beautitudes, Tabgha, Capernaum, Nazareth Village, Boat ride on Sea of Galilee, Mt Carmel and Megiddo, Caesarea Philippi, and Beit She'an – ancient ruins of ancient roman city. Opportunity for baptism in the Jordan River too.
Other possible visits include: Messianic congregations, Orthodox Rabbi's, Kibbutz visit, Holocaust survivor home.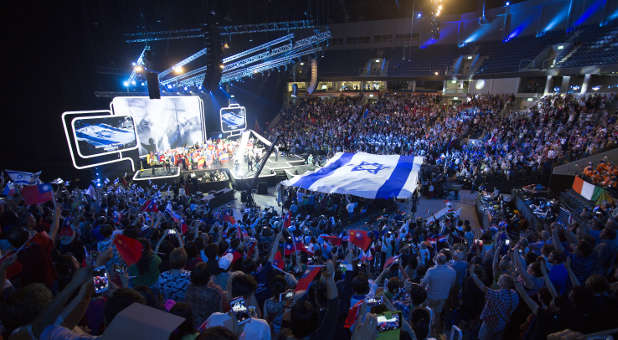 10 October 2019 to 22 October 2019
R48,500 (at R 13 / US$) – Including the ICEJ Feast Registration ($ 470)
Includes: Return flights ex Johannesburg to Tel Aviv, fuel levies and taxes, 11 day tour in Israel, transport on luxury air conditioned bus, professional Israeli tour guide, tips, site visits and entrance fees. 10 nights of accommodation (on twin share basis), breakfast and dinners.
The schedule is subject to change. Blessed are the flexible, for they shall not be broken.
Click here to see Baruch BaBah Tour Photos
Click here to see more details about the Baruch HaBah Tour
Join us each year to go up to Jerusalem to celebrate the Feast of Tabernacles with thousands of Christians from around the world.
For details of an organised group tour to the Feast, contact the ICEJ South Africa office at Tel: +27 21 879 1788/ email for a brochure.